What can I say?
I was under the mistaken impression that our regular training run on Sunday was cancelled because so many folks were doing the First Half half marathon. So Princess Peach and I were going to have to do something on our own. I considered proposing going out to her neck of the woods to do the nice flat Poco trail [but not too early because I had a Danish dinner to attend on Saturday night.] We are about half way in our training for the BMO halfapalooza in May and once again Jo-Jo's ticker is freaking me out. And I thought I was over that.
When someone offered up a coveted First Half bib earlier on I had considered claiming it but decided that would be foolish. Which was smart thinking, because now I am about 3 weeks into some tendon trouble and only recently had been cleared to do some short walk/run expeditions with emphasis on short and walk. So no one in their right mind who had never run more than ten miles would be interested in a half marathon in such circumstances.
Right?
So when I mentioned on Friday that I would run the First Half if I had a bib I felt smugly assured that no such bib could be forthcoming. To insure that, I added the condition that I needed not one, but two bibs. If I was going to suffer, surely Princess Peach needed to as well. She just didn't know I had offered her up. It wasn't going to happen anyway.
Right?
Well the next thing I know a Wolf has arranged for a couple of Beevers to transfer their bibs and I had a couple of other offers for good measure. Thanks. Thanks a lot.
Then I got the half marathon training email. There was a training run this weekend. A nice easy 8 miler with none of last week's hills. Great. Just great. It wasn't even going to be a Longest Run Ever®. Surely something much closer to what my physio had in mind.
Right?
So then I have to break the news to Peach. How about a nice seaside flat training run after last week's nasty hills that just didn't stop. A few friends might join us. And – oh yeah – that we would be nicely accessorized with a bib and maybe a medal at the end. It's entirely possible that she would prefer the Poco trail. And wouldn't want to stand up our regular running buddy Scupper.
Right?
Wrong. Crap. Damn you Peach.
Surely it was all a bad dream.
Right?
Nope. So I had pick up the bibs. And forge Peach's signature. The librarian I knew at race registration was astounded at how much my twin sister and I resembled each other, right down to the handwriting. Crap. Now I should be really worried.
Right?
I decided to worry later. I had a Danish dinner to attend. Looking forward to all that herring, and mackerel, and akvavit, and pork, and veal, and akvavit, and … well you get the point – a lot of meat, no vegetables, some cheese - all punctuated with lots of opportunities to say Skol! – whatever that means. Conscious that I had a Big Race®, I limit myself to only one shot of akvavit and two beer. The outcome was a little different from that dinner about three years ago where B. and S. and I kept filling our glasses, shouting Skol! continuously. The we pretended that we were actually filling our glasses with water. But we weren't. And then those pictures of me in a Viking hat surfaced…oops, I seem to have gotten off track. Oh well, at least we'll be home early.
Right?
Not exactly. By the time we got finished with all of that birthdate fortune book trash talking and stuff, it was after midnight. By the time I got home and tucked into my little bed it was much later.
Surely it was all a bad dream?
Right?
Unlikely. Who in a dream gets up and lays out all of their gear? Surely someone in a dream would have been smart enough to charge the iPod. No this must have been me. Awake.
Crap.
Right?
Off to Starbucks to get enough caffeine and oatmeal to get me and my banana to the pre-arranged meeting at Starbucks. Caffeine hasn't done its thing yet, so go for another grande. Crap. Um, I mean, no crap. But a nice meeting with JWolf, Lisaannr, Peach and Starting_over. Great to officially meet Starting_over rather than just randomly greeting each other like we did last Sunday at Vanier Park.
Head over to bag check and run into run4life and Tikey who seem unexpectedly friendly for two folk who are publically competing to be the first to trip the other.
Make our way toward the portapotty lineups which are less than 10 deep. Good news. The tattoo on the guy in front of me reminds me to be on the lookout for eljeffe. Wait a minute – that is Jeff. And he's with runningman.
The line moves quickly. No crap. Crap. Stupid Danish dinner. This wouldn't be happening if I had consumed more akvavit.
Right?
So here we are in the Start line. It's a gorgeous morning. An I am undertrained, injured, and overreaching. And very slow. Was pleasantly surprised to find that marker 1 isn't a kilometre but a mile. But it's clear that I am really holding Peach back whilst chatting it up with other slower folk. So off she goes. I try to hang in with several groups but quickly realize that the only way to mitigate this error in judgment is to do it at my own pace even if it means mostly walking. I don't need to do any more tendon damage.
I pass some folks with a couple of signs cheering on Aaron. I ask them if they mind if I pretend for a moment that I am Aaron. They give me a great cheer. The person behind me asks if they can be Aaron too and get another cheer.
Unlike earlier in the race, at that point there is actually someone behind me. Prior to that I was being followed very closely by an ambulance and police cruiser. Tricia, the amazingly paced ultrarunner tells me not to worry - they can't follow me that closely for the entire race. But only because they aren't allowed to drive on the seawall. Tricia tells me about a couple of nice ultras on Vancouver Island as if it's a sane thing to want to do that some day. All of this over the engine hum of the ambulance and the cruiser. Sheesh – it's not like my race number is 911 this time like it was at the Resolution Run.
Ah yes – the Resolution Run – where my friend L. and I decided that 2009 was going to be the year of no more messing around. Surely this wasn't what we meant.
Right?
'Cause L. didn't decide to train for a half just yet. No. That smart cookie wisely decided to sign up for the Run 10K Faster Sun Run training. Where I should have been at that very moment. But no – here I was Not. Messing. Around. In a kind of messing around sort of way. Although I couldn't figure out what kind of omen it was when the next race marshall I run across is another one of last year's Sun Run group leaders who gives me a big shout out. Confusing to say the least.
Right?
I see a couple of racers in the distance that I decide to catch. But they get further ahead when I make a bathroom stop. Alas, so does the sweep who got past me and I have to catch up with. But I am finally warmed up and can motor a bit in a mostly walking kind of way. I finally reel them in and eavesdrop on them as I try to open up a distance. I hear one say to another "Wonder what that runningmania.com thing is all about. We can ask her if we ever catch up." I decide to make it hard for them to find out. For about 2 minutes. Who am I kidding? I want to join the party. I have never run more than 5K on my own. Why start now? Enter Kristie and Claire who are having a great time and don't mind my company. We take a photo at the halfway point. I look at my watch and think that it could even be possible for me to make the cut off time. K. and C. aren't planning a bathroom stop at the next aid station, but I am so I motor a bit ahead and hope to catch them up. Which I eventually do. It's a comfortable pace and I foolishly note that I could keep it up all day. Kristie starts going on and on and on about an ultra race on Vancouver Island that I needed to do. I bet she knows Tricia. Poor mad fools.
Right?
It's great listening to their tales of past races. The miles are just going by. I scoot ahead to the next potty and expect to have to play catch up again. There they were lounging around sipping Gatorade like it was a cocktail party when I come out.[Still no crap by the way]. For all I know they are drinking cocktails. I, on the other hand, am such an athlete that I cracked open my second barrel of eLoad that morning. They didn't have my usual lemon-lime so I tried a new flavour – mandarin. Imagine my delight finding myself out on the course discovering that I really was drinking Orange Koolaid! Nothing like the Power of Orange.
Right?
And then the home stretch. Another high 5 from Sun Run Leader. Some complaining hip flexors as we go up those small but evil hills to Pacific Boulevard. And the finish line is in sight. It has been a glorious day filled with sunshine, sea breezes, Maniacs, good company, one bathroom I didn't stop in…altogether a cool experience.
As we approach the finish line, I hear my name being shouted out. Peach is there at the finish line with Steve, Foster and Scupper. Peach came in around 2:39, and I am in just over the allotted time at 3:09ish. The finish line is still up and I get a medal. Sweet. Foster takes a photo of Kristie, Claire and I together.
I should do this again.
Right?
JWolf has waited for me and gives me a great hug. Off we go to Starbucks where we run into Claire who is not surprised to see me making yet another pee stop. I give JWolf a ride home and head home topless in the sunshine. I have to make an emergency pee stop after a traffic delay downtown. Ahhhh…relief.
Peach and the gang are coming over for dinner so I stop at the grocery store. Forget that I am still wearing my medal until I run into my physiotherapist who congratulates me. Then in the spice aisle I run into R., another Sun Run training buddy, who drools on my medal and swears to join me next year or the year after.
As if I would do this again.
Right?
DAMN RIGHT!
at Starbucks: starting_over, lisaannr, seuss, Princess Peach, JWolf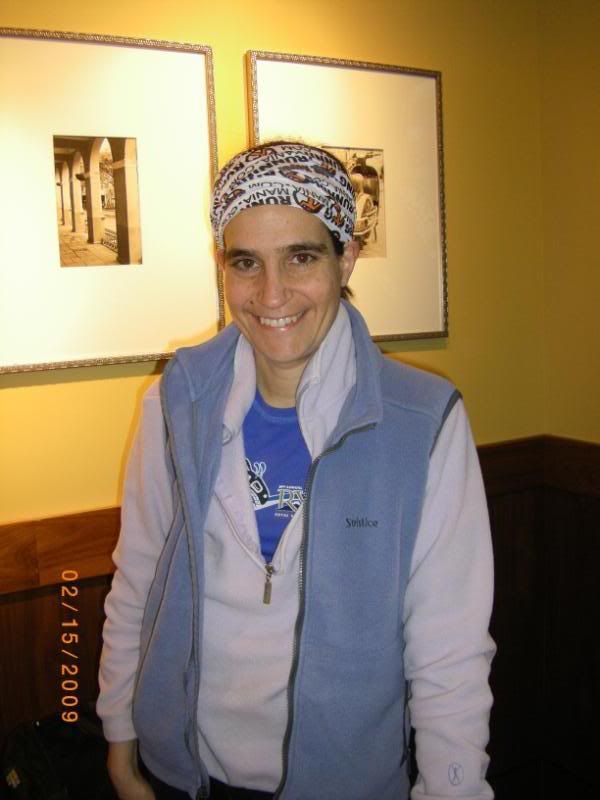 JWolf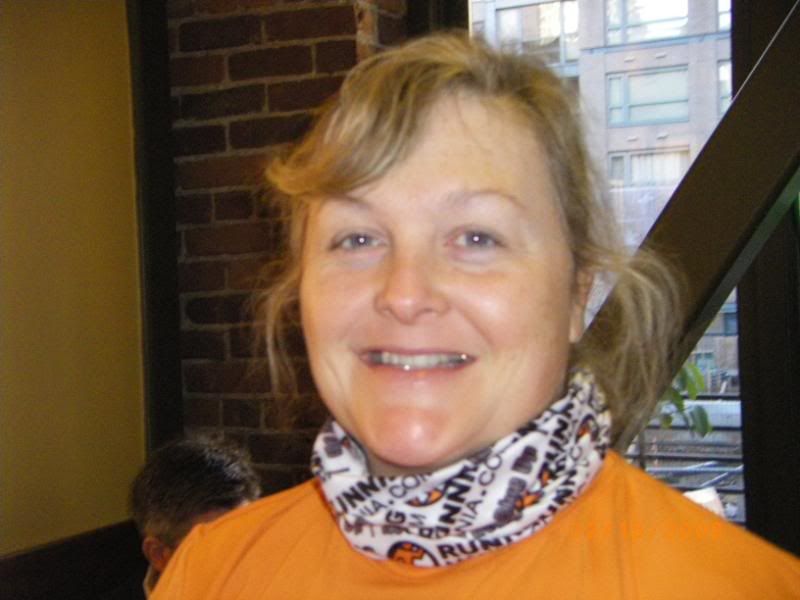 Princess Peach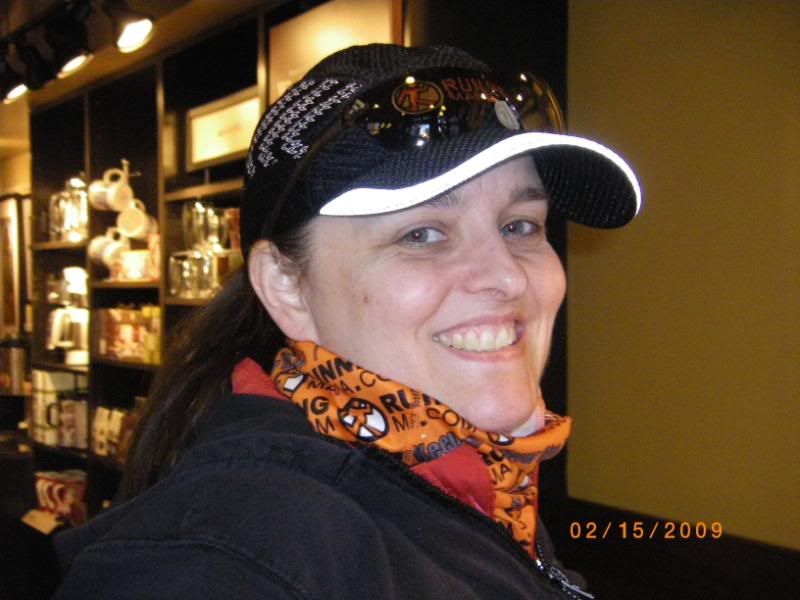 lisaannr
starting_over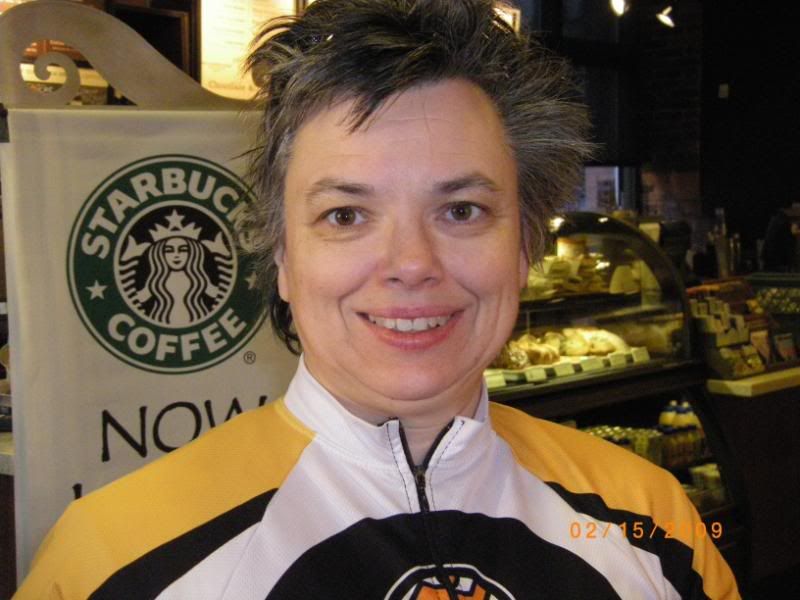 bad hair day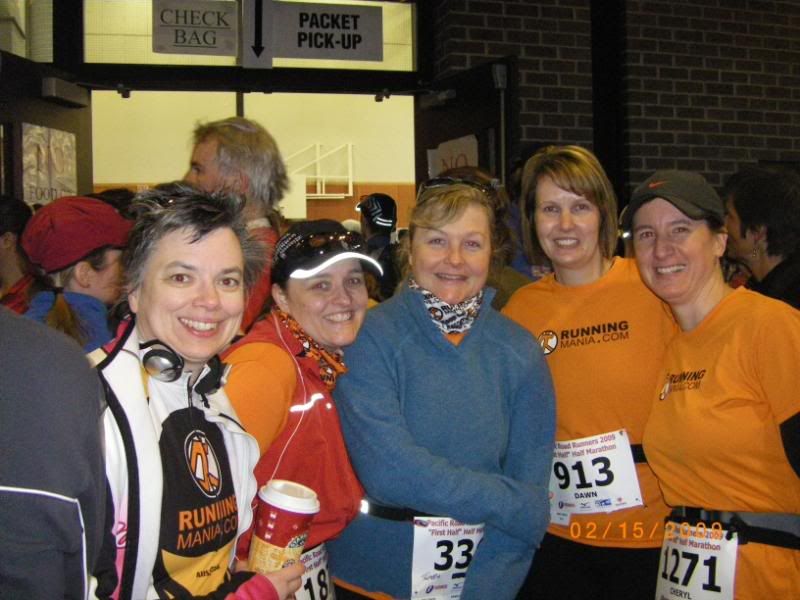 that's Tikey and run4life on the far right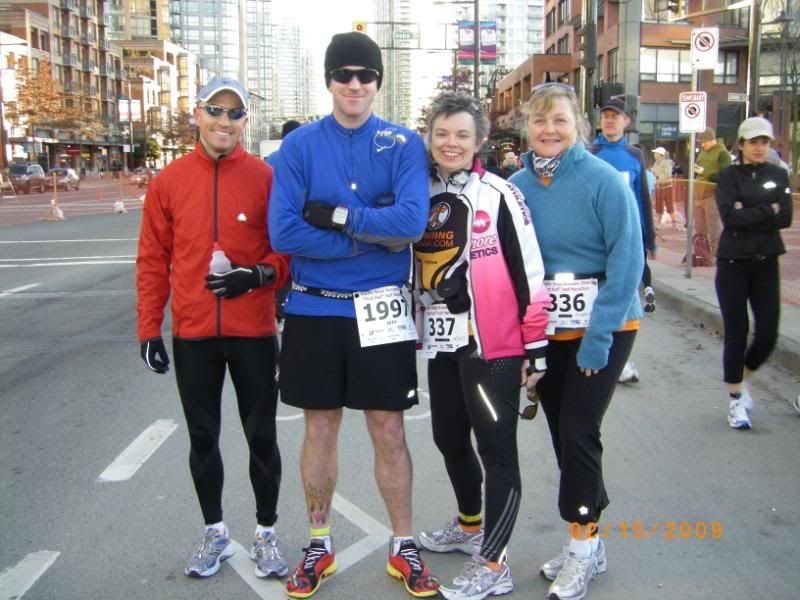 runningman, eljeffe, seuss and Princess Peach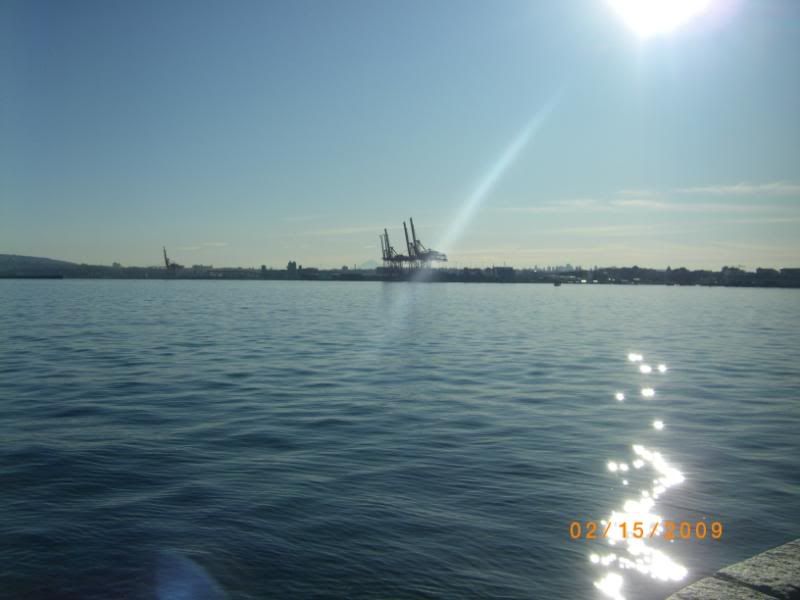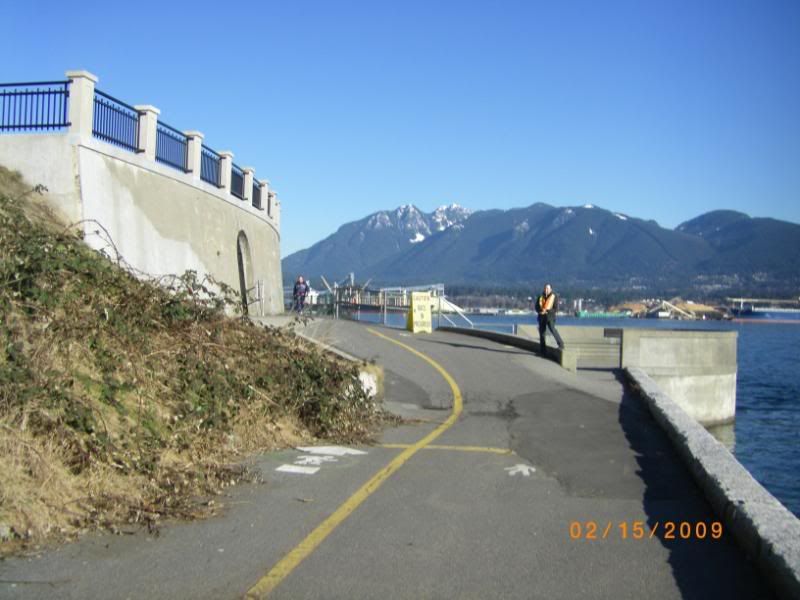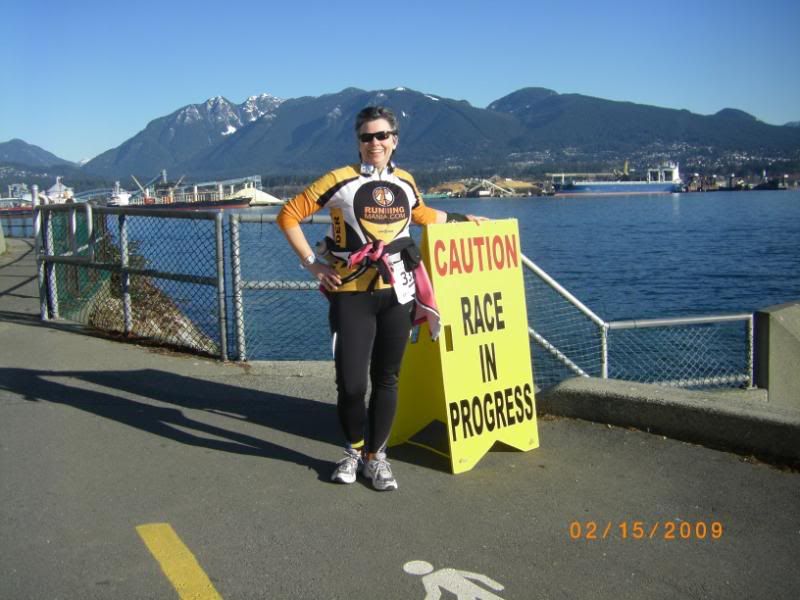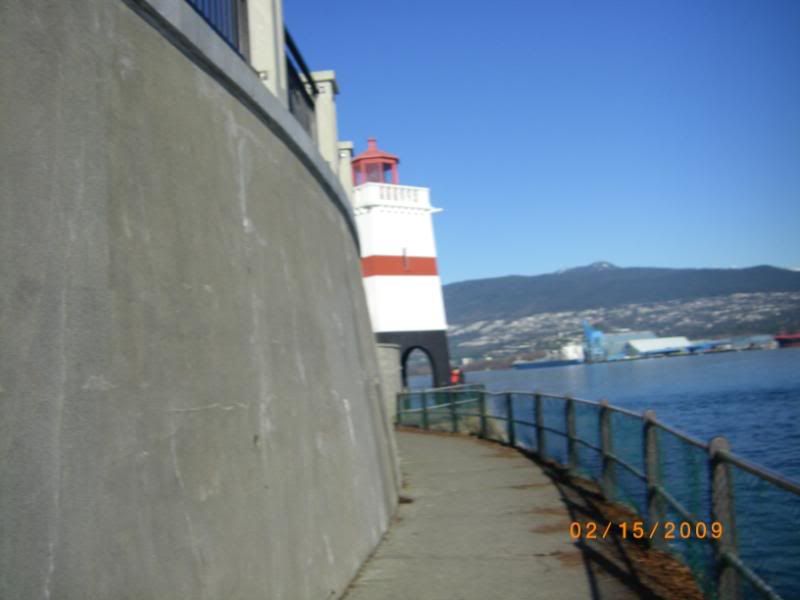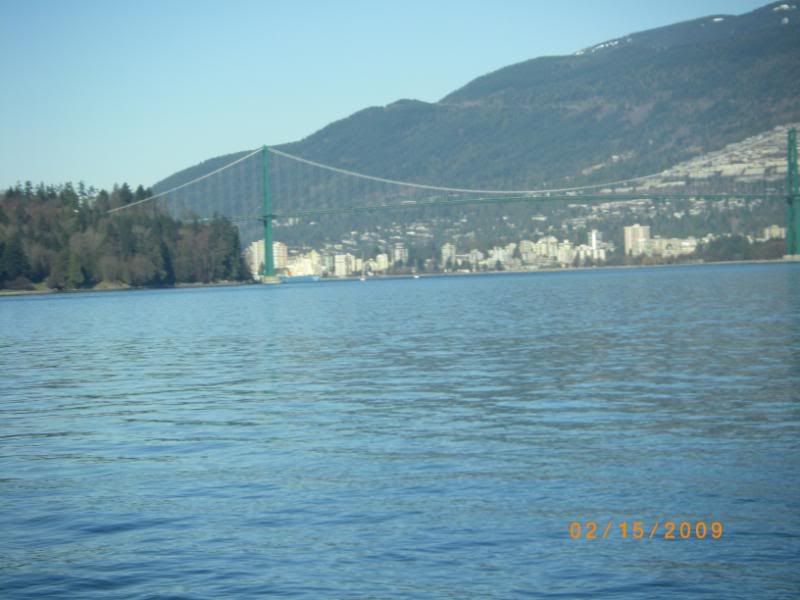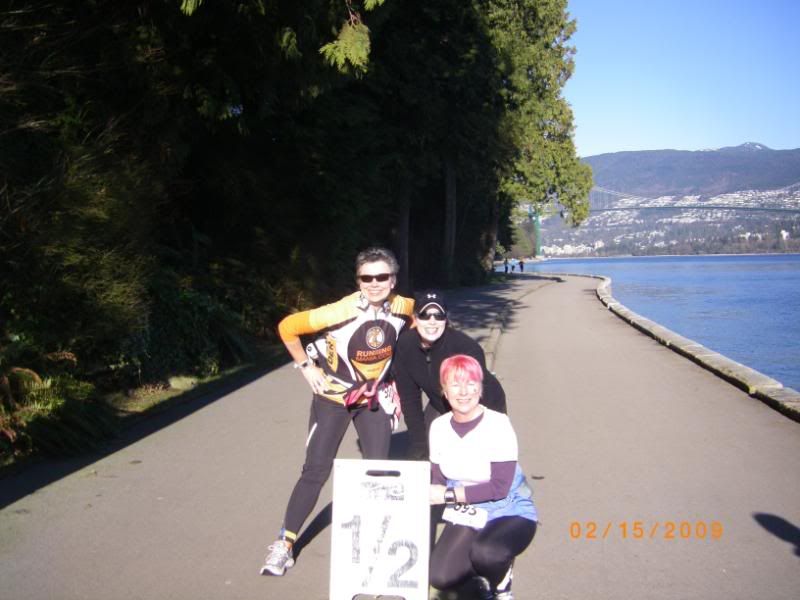 at the halfway point with Claire and Kristie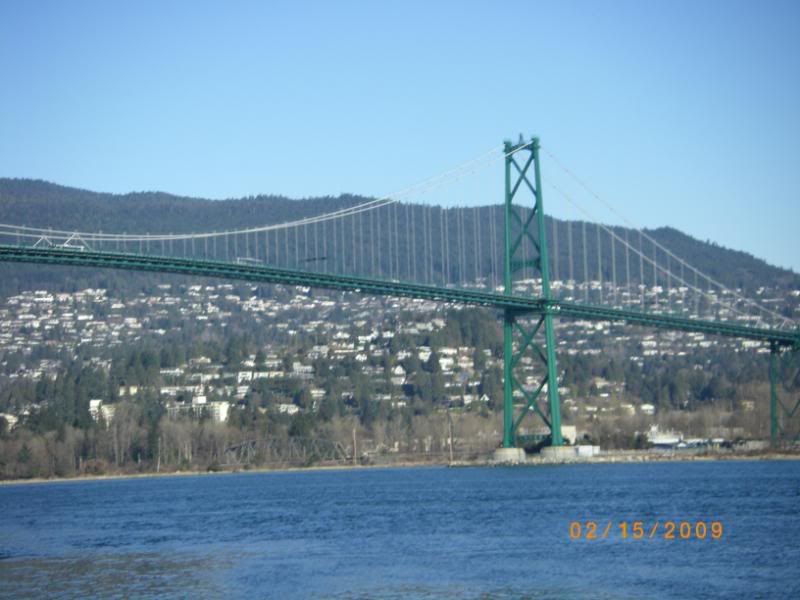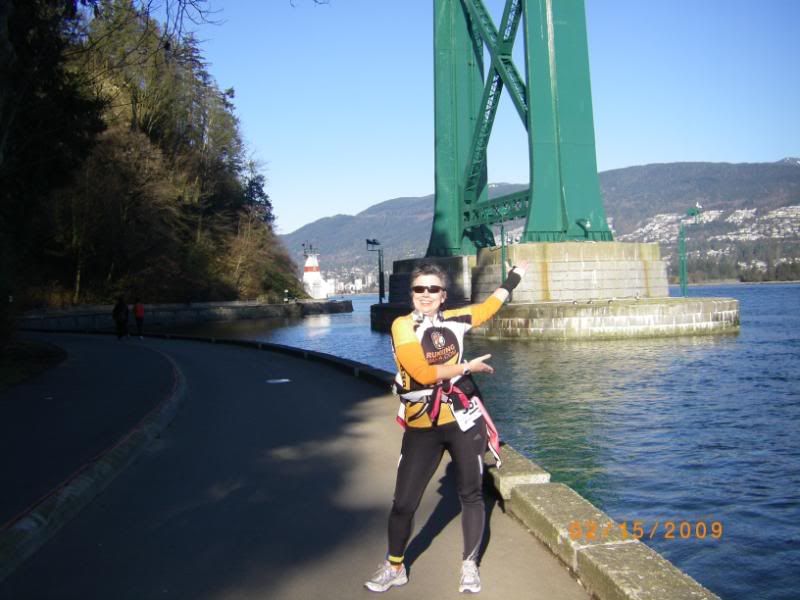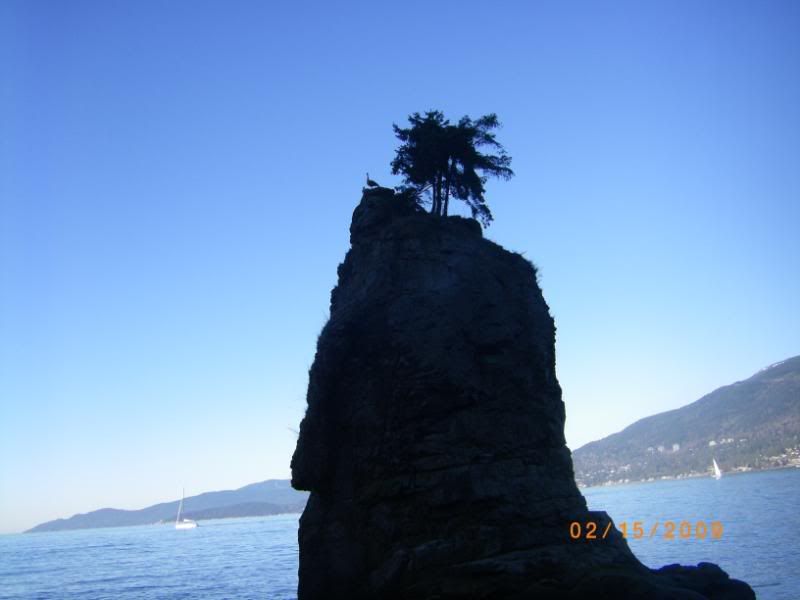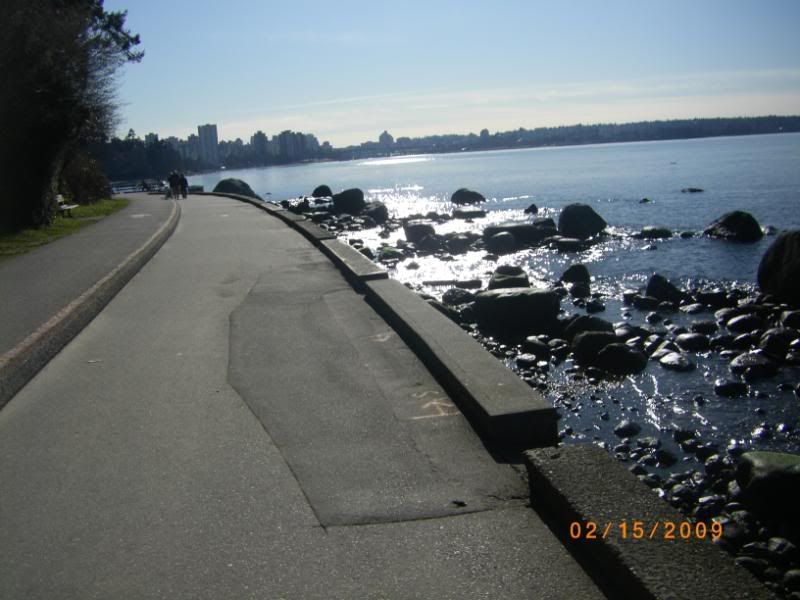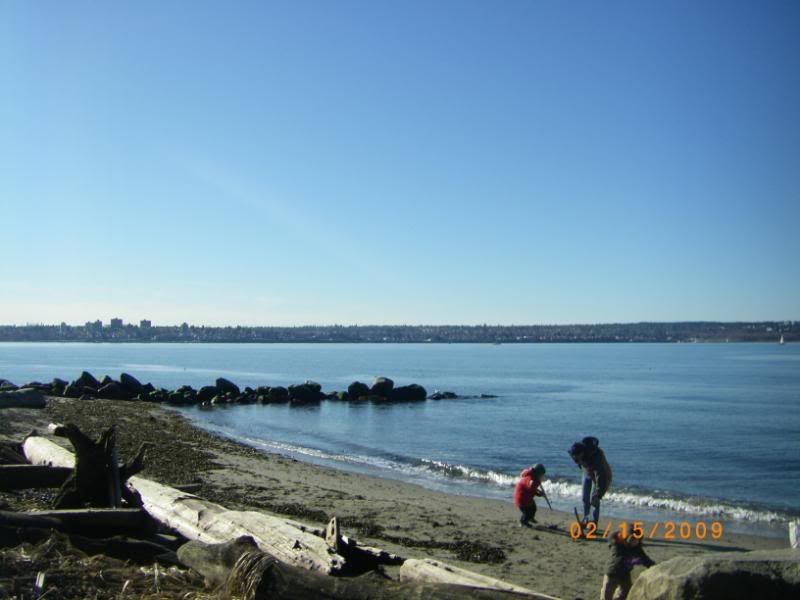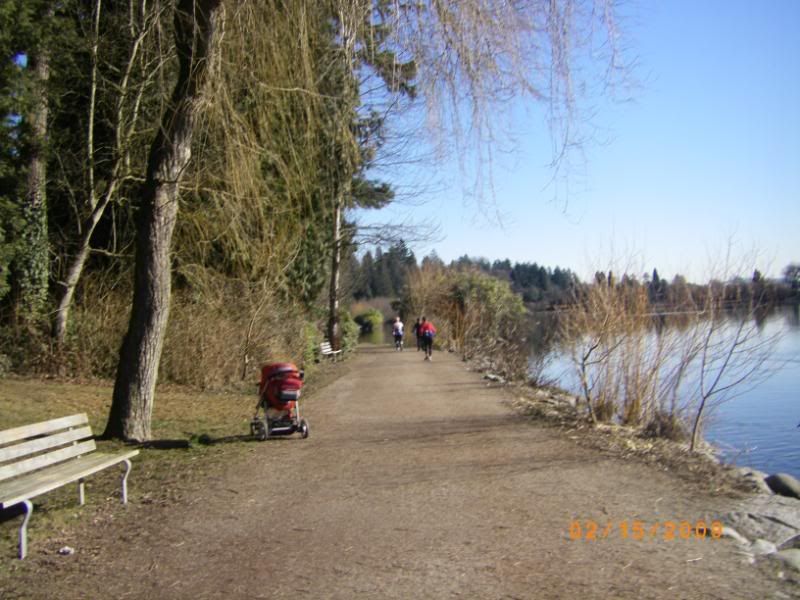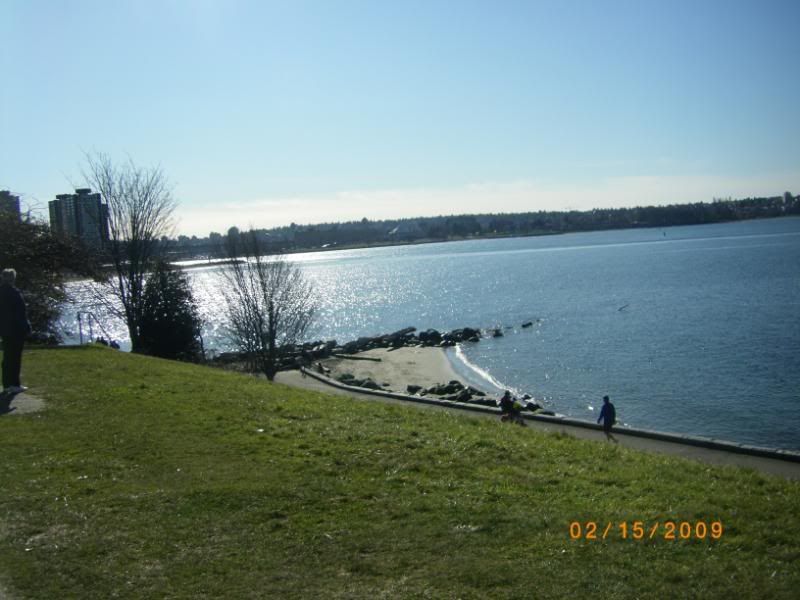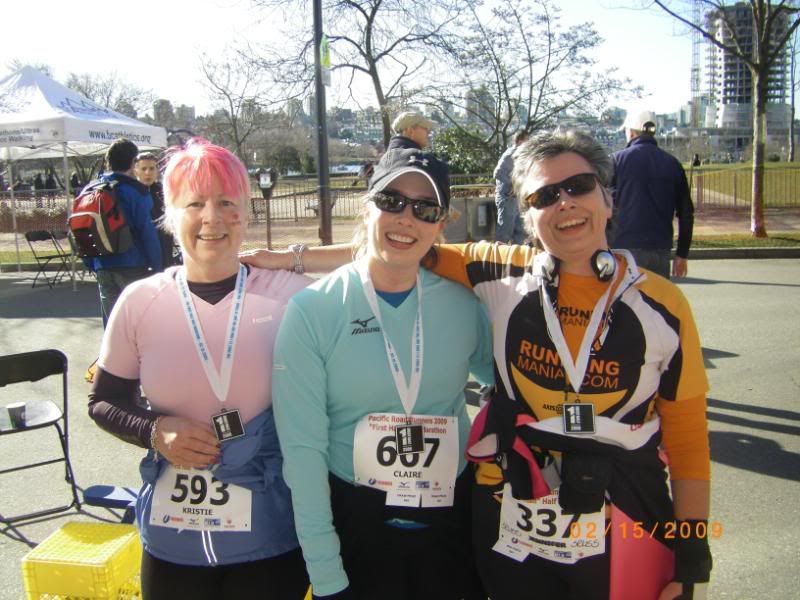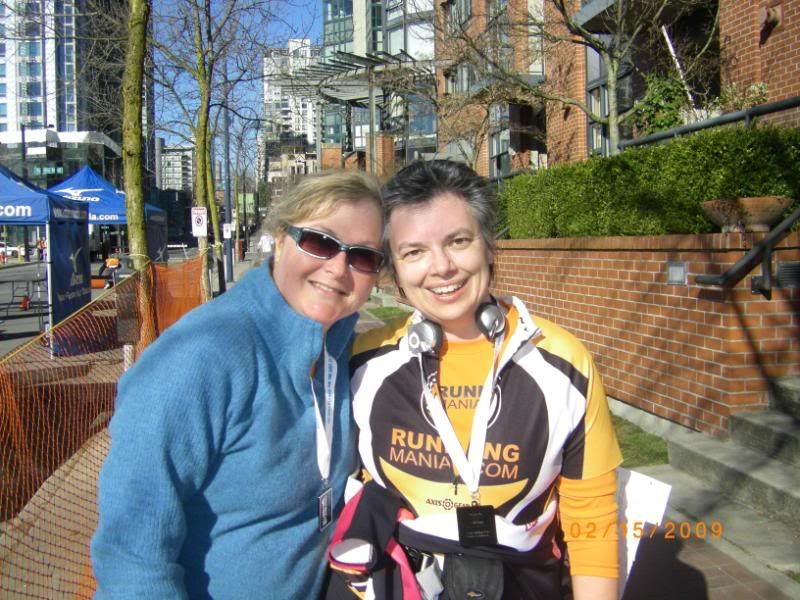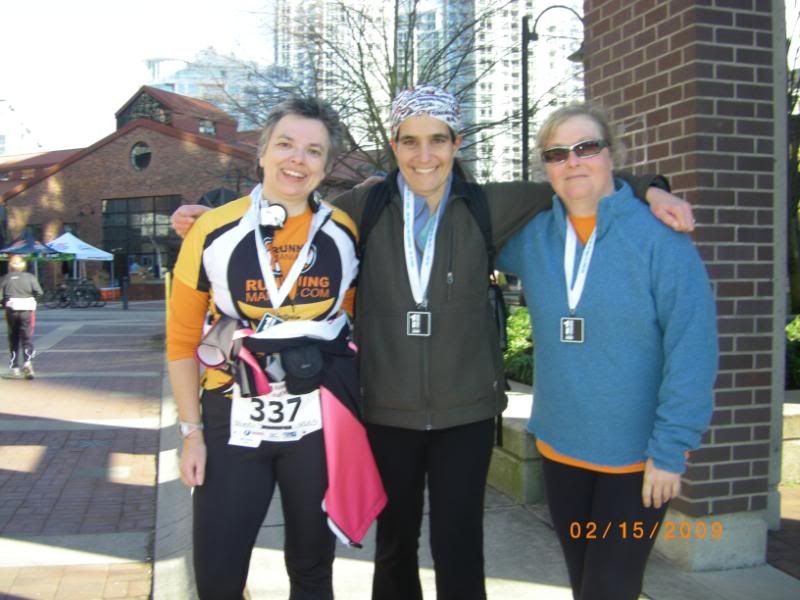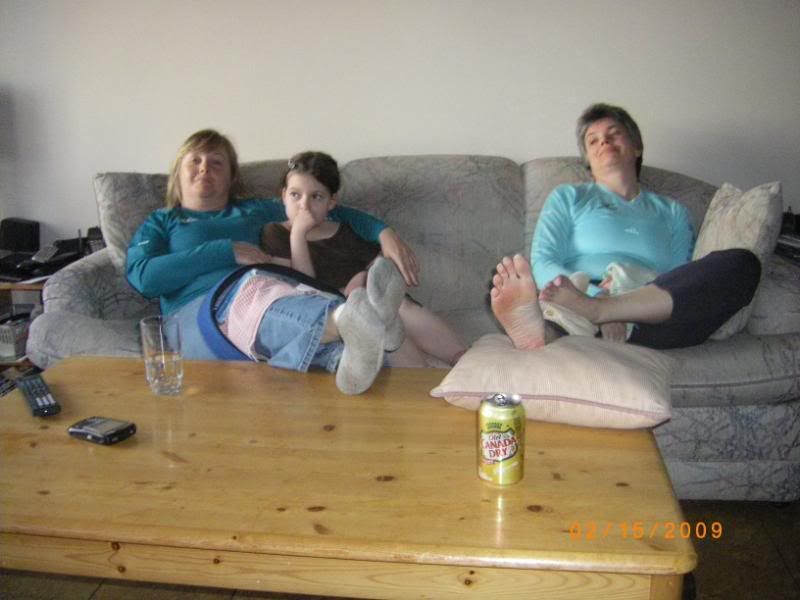 chilling out after the race - lots of icepacks in use here.