I completed the EndurRun Half Marathon, Stage 1 of the 7 Stage Weeklong Series in 2012 and knew this was a great event. For some reason, perhaps lack of proximity to home, I discarded a more serious entry for 2013. But once the Midsummer Night Run changed its route, I revisited my August options. I took the plunge into the 77.8K Sport Series (three day) EndurRun about seven weeks in advance. I managed to quickly ramp up my mileage and run one 100K week three weeks out.
I knew I was up against stiff competition. There are fun
Contender Profiles
on the race website and I saw at least three competitors I would struggle even with more specialized training under my belt.
Stage 5 - 25.6 km Alpine Run (Kitchener)
The course was changed in the weeks leading up to the race. A flat(ter) portion was unavailable so 700 metres+ of cumulative climb was changed to 1,000+.
This run was absolutely punishing. 20 ascents of the hill was at least 17 too many. I was ridiculously slow at points.
Looking at last year's results I figured 2:33:00 was about right, adjusted to 2:35:00 with the increased elevation. That was wrong – I never had one of those planned 31 minute laps. The first, which seemed about the right tempo for five laps, was 32 minutes. The accumulated beating on my legs slowed me down each lap further.
On both the fourth and fifth lap I was concerned I may need to crawl to complete the steepest hill. I'm in black and grey, I'm not leaning forward, that is the slope: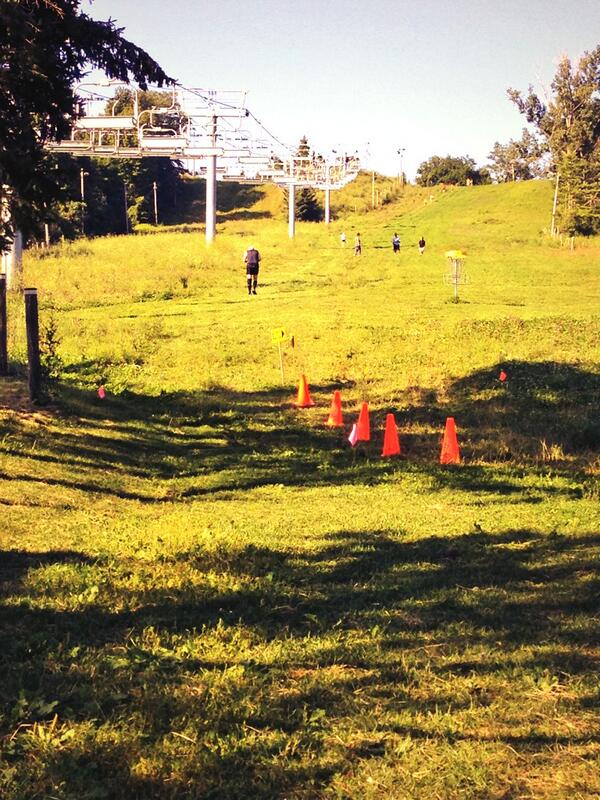 Things were looking up – at the close of the fourth lap I caught up to a gent that I had been gaining on. As some called him by name I realized that he was a runner I did not expect to have a chance to beat. So I put the accelerator down on the next uphill and he did not respond. Similarly at 22.3K I ran by past a runner at 21.5K that I recognized, another character I did not have a chance to beat. I never did have to crawl the big hill, putting one hand down once toward the top on the last lap was as bad as it got.
The additional hills wreaked havoc on all. Few paced themselves properly. While I couldn't even muster an average pace of 7:00/K for the day and was 26 minutes off my goal, my result was good enough for 2nd in the Men's Sport Series. 3:00:52 for 25.6K.
The stage winner was 19+ minutes ahead of me and runs a 10K 5 minutes quicker than I and a marathon 20 minutes quicker than I. So no chance at 1st.
Stage 1 of 3 Results
1 Costas 33 0:27:56 0:29:32 0:33:03 0:34:30 0:36:19 2:41:20
2 Dave 40 0:31:58 0:34:23 0:36:29 0:38:20 0:39:42 3:00:52
3 Graham 40 0:31:40 0:33:28 0:36:48 0:39:14 0:43:12 3:04:22
4 Andrew 32 0:33:15 0:34:30 0:38:09 0:39:16 0:40:08 3:05:18
5 Paul 43 0:43:15 0:42:13 0:45:44 0:57:04 0:50:29 3:58:45
6 Sean 46 0:42:59 0:47:44 0:51:00 0:56:53 0:59:46 4:18:22
Stage 6 - 10 km Time Trial (Elmira, Woolwich Twp.)
I lost 2nd and possibly 3rd today on this day. I went a comfortable pace, slightly quicker than Marathon Pace, on my demolished legs. The 3rd and 4th place guys started one and three minutes ahead of me. Here I am at the start line trying to move:
3rd and 4th must have taken off in the weaving through Elmira. I though I was keeping pace with 3rd, I could see him ahead. As it turns out he passed a runner early and I was keeping pace with the wrong runner. Not much I could do – the first two finishers ran quicker than my Sporting Life PB time on their tired legs. Discouraging, as I knew these were also much quicker marathoners than me, hopefully my slow 10K would provide some recovery. So I told myself this was OK - an extra minute today could cost five tomorrow. All evidence suggests I was in some level of discomfort throughout:
Stage 2 of 3
1 Costas 33 0:42:20
2 Graham 40 0:43:30
3 Andrew 32 0:45:42
4 Dave 40 0:49:49
5 Paul 43 1:13:10
6 Sean 46 DNS
Series After 2 of 3 Stages
1 Costas 33 3:23:40
2 Graham 40 3:47:52
3 Dave 40 3:50:41
4 Andrew 32 3:51:00
5 Paul 43 5:11:55
6 Sean 46 DNF
Stage 7 - Marathon (Conestogo)
This added an element of intrigue to the race. Based on the standings I had a runner I needed to best by 2:50 to claim second and a runner 19 seconds behind that I did not want to beat me.
I just went out at a pace I could manage, I figured sub 3:50:00, 16.5 minutes off my PB, was as quick as I could hope for. This was a 5:27/K pace, which was all my body could go:
1-7K - 5:10, 5:20, 5:28, 5:45, 5:20, 5:22, 5:28
8-14K - 5:15, 5:15, 5:12, 5:18, 5:35, 5:15, 5:27
At 17K there is a spur where you can see the runners 800 metres ahead and behind. I saw that second place was not within 800 metres and was confident I could hold him off.
I did not see fourth place ahead or behind and did not see him at the start line. (As it turned out he took the 6:30 AM early start reserved to allow 4.5 hour and slower runners time to complete in time for the post-race lunch and awards)
15-21K - 5:25, 5:20, 5:18, 5:17, 5:13, 5:25, 5:20
0:20
1:52:48 First Half
The second half provided more sun and warm temperature…for those who started on time, I was drinking everything in sight:
21.1-28.1K - 5:02, 5:13, 5:15, 5:45, 5:10, 5:20, 5:32
With the heat and accumulated fatigue, there were increasing folks struggling. I consciously slowed down a touch 32K to 34K as I knew I would stay ahead of the second place if the wheels did not come off and I saw some very experienced runners is a lot of hurt in the heat and didn't want to be there anytime in the next 20 minutes.
28.1-35.1K - 5:23, 5:47, 5:20, 5:28, 5:47, 5:38, 5:53
At 35 to 36K I saw a fit shirtless dude in the distance walk a hill. I was shocked as I suspected I knew who it was and caught him in the 36th K. I chatted quickly with series leader Costas, who had a lead of 27 minutes on me for the series then ran hard up the next hill to lose him while he was struggling. The spur at 38K confirmed I had built a lead of 150 metres.
I pushed as hard as I could on the hills into the finish. I knew my pursuer had sub-19 minute 5K speed. I even asked a few onlookers if there was any men behind me.
But I brought it in successfully and had apparently won the stage by 49 seconds:
35.1K-42.1K - 5:27, 5:20, 5:35, 5:30, 5:17, 5:33, 5:25
0:33
1:55:13 Second Half, 3:48:01 Marathon
Of course I needed to check with the timers how fourth-place dude had done with his 6:30 AM start but I had finished in front of him.
Stage 3 of 3
1 Dave 40 1:52:48 1:55:13 3:48:01
2 Costas 33 1:44:42 2:04:08 3:48:50
3 Andrew 32 1:49:47 2:04:21 3:54:08
4 Graham 40 1:57:48 1:59:33 3:57:21
5 Paul 43 2:18:54 2:52:23 5:11:17
Cumulative
1 Costas 33 7:12:30
2 Dave 40 7:38:42
3 Andrew 32 7:45:08
4 Graham 40 7:45:13
5 Paul 43 10:23:12
Though I was wiped out…
…I have already signed up for the Ultimate (Weeklong) competition next year.
Everything about this event was first rate. The format just adds to it - Getting an unlikely stage victory Sunday, when I needed a strong result to get into second place for the series, has to be the highlight accomplishment of my running career.